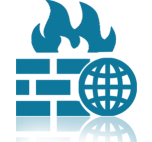 Web Application Firewall
SafeComs can protect your website from external threats trying to gain access to your web server. Wherever the server is, our cloud-based Web Application Firewall (WAF) protects it in real time against hackers, infections, net attacks and more so your business is safe and secure.
Overview

SafeComs provides protection against the major OWASP security threats
Ability to customize security rules specifically to your business
Compliant with PCI Security Standards Council and PCI DSS Requirement 6.6
Quick responses and defenses against threats
24 hours/7 days support, management and tuning by security experts
99.999% uptime SLA (Service Level Agreement)
The firewall commonly used by the world's most security-conscious enterprises and government agencies (Source: Incapsula)
Features

Protection Against OWASP Top 10 Threats
Our Web Application Firewall protects your business from major security risks listed by the Open Web Application Security Project (OWASP). These critical web application security risks include SQL, OS and LDAP injection, broken authentication and session management, cross-site scripting (XSS), insecure direct object references, security misconfiguration, and other threats. The latest vulnerabilities are quickly addressed to ensure your business is protected and unaffected by these threats.
Tailor-made Security
Whatever your business needs, we can customize security rules to meet and protect your information, communications and everyday processes. With the Web Application Firewall, you can adhere to your organization's security policy easily. The graphic user interface (GUI) is simple and effective to configure your businesses' security rules, such as blocking requests, IPs, sessions, or placing an 'alert only' mode.
PCI Certification & Reporting
Our Web Application Firewall is certified by the PCI (Payment Card Industry) Security Standards Council, and provides you with peace of mind that payments on your business website are protected in line with the latest compliance standards of PCI DSS (Payment Card Industry Data Security Standard) Requirement 6.6. Any sensitive customer data is shielded from exposure on your site, and your business will receive periodical reports on your compliance, along with an outline of any changes to security rules configuration.
Quick responses, fast defenses to every threat
Drawing on crowdsourcing resources and techniques, the Web Application Firewall applies collective knowledge to protect your business from current online threats. Using big data analytics, information is aggregated across the worldwide community, making it a very effective way to discover new attacks as they happen. At the same time, your business is protected as part of the quick defenses SafeComs can apply in response.
Handling exceptions and tuning into false-positives
We can tailor your security to cover specific URLs, fields, IP addresses and countries, allowing your organization to conduct business as usual while having full control to define exceptions and minimize any false-positives (where it looks like you have a vulnerability but the system is working).